If you've been fretting over your unhealthy snacking habits, then worry no more. The perfect solution to satisfy such cravings in the most nutritious way is eating makhana. Also known as lotus stem and fox nut, it is makhana nutritional value that makes it a perfectly healthy snack. These nuts come from makhana plant also known as Euryale (lotus) that is cultivated in stagnant water. Now, if we have managed to get your attention and you're interested in learning about Makhana Benefits and some wonderful makhana recipes, then glide down through our list to explore more about what is makhana and why is it so popular.
What Is Makhana?
Makhana is a dry fruit from makhana plant that is cultivated in Eastern Asia. The white colored makhana seeds are mostly eaten during fasting and they are also used to make an extremely popular Indian sweet dish, kheer. In fact, the nutritional value of makhana has been exploited in Chinese culture as an ayurvedic remedy to cure heart diseases for over 3000 years now. You can eat roasted makhana seeds for evening snacking or can also soak them in milk to prepare different makhana recipes.
An Insight On Makhana Nutrition That Makes It So Valuable
Makhana benefits are an attribute to its rich nutritional value that makes this nut no less than an ayurvedic medicine. The content below is a chart on makhana nutrition per 100 grams.
100 grams of makhana gives 350 calories, constituting 77 grams of carbohydrates, 9.7 grams of protein, and 0.1 grams of fat, none of which is trans fat. Besides, it contains the following minerals and vitamins that are the real reasons behind the benefits of makhana.
Calcium – 52.2 mg

Iron – 1.1 mg

Potassium – 367 mg

Magnesium – 67.2 mg

Copper – 0.1 mg

Folate – 33.3?g

Niacin – 0.5 mg

Zinc – 0.3 mg

Thiamine – 0.2 mg

Phosphorous – 200.3 mg

Vitamin A – 1?g

Vitamin B-6 – 0.2 mg
11 Stunning Makhana Benefits For Health That You Should Be Aware Of
By now, you already know that makhana calories are practically harmless since they are minimal. Besides, makhana calories are a result of protein, vitamins, and minerals, and not just carbs. This is the real reason that makhana is known as a low-calorie dry fruit. And considering how valuable makhana seeds are, we have made a list of some of the best makhana benefits for health that is listed below for your reference.
1. Makhana For Weight Loss
Makhana is a low-calorie diet that helps in weight loss since it can suppress hunger
2. Makhana Plant For Constipation
Makhana dry fruits from makhana plant are rich sources of dietary fibers. And dietary fibers increase bowel movement and reduce constipation
3. Makhana Seeds For Digestion
Makhana is an anti-inflammatory food source that reduces intestinal infection and promotes digestion
4. Makhana For Acidity
The capability to cure acidity and bloating is one of the best makhana benefits that help people suffering from gastrointestinal disorders
5. Makhana Benefits For Blood Pressure
Makhana is low sodium and high potassium diet that helps in reducing high blood pressure. This is the reason that makhana is a popular fasting dish since it can manage low blood pressure
6. Makhana Seeds For Metabolism
Makhana contains essential minerals like iron and phosphorous to detoxify the body. As a result of which the body's metabolism improves
7. Makhana For Cholesterol
Makhana is a low-calorie metabolic booster that helps in blasting deposited fat; thereby, reducing cholesterol
8. Makhana Benefits For Diabetic Patients
Makhana seeds have a low glycemic index. As a result, they are a potential cure for type 1 diabetes as well as 2 diabetes
9. Makhana For Bones
Makhana benefits for bones are due to the presence of calcium. Calcium takes care of bone degenerative disorders and also offers relief from joint inflammatory conditions like gout and arthritis
10. Makhana For Infertility
This is one of the most unique makhana benefits that are helpful for both men and women. It increases sperm count and sperm quality in men and makes the uterus lining strong in women that helps in conceiving
11. Makhana For Insomnia
Many researchers indicate the usefulness of makhana in curing insomnia and other mental disturbances like stress and anxiety
Also read?Lauki Juice ? What Are The Best Health And Beauty Benefits
3 Must Know Phool Makhana Benefits For Skin
The above-listed benefits of makhana make this dry fruit a powerful ayurvedic remedy for a healthy lifestyle. But, in addition to makhana nutrition and health benefits, this dry fruit also offers some beauty benefits like the ones given below.
1. Makhana For Aging
Makhana is an astringent that not just cleanses skin pores, but also tightens them. Besides, it also contains proteins. Therefore, makhana erases the appearance of wrinkles and can also remove black spots from face
2. Makhana For Acne
Makhana contains kaempferol that is an anti-inflammatory flavonoid. Therefore, makhana helps in reducing redness and pain caused by acne
3. Makhana For Dry Skin
Makhana has protein that makes the natural skin protein, collagen, efficient. This results in the formation of plump new cells that are soft, hydrated, and blemish free
4. Makhana For Pigmentation
Makhana seeds stock up high on antioxidants. And antioxidants scavenge free radicals out from the skin. As a result, the skin becomes luminous and pigmentation is reduced drastically
Also read, How To Remove Sun Tan From Hand And Legs In A Week
4 Interesting Makhana Nutrition Facts That Are Worth A Read
Now that you know calories in makhana come from healthy sources and that makhana nutrition results in multiple health and beauty benefits, we have taken the initiative to make you aware with some interesting makhana nutrition facts. Read on to explore more!
Makhana seeds are absolutely gluten-free. Therefore, they are perfect food sources for vegans

Roasted makhana is as nutritious as raw makhana

Makhana seeds do not have a taste of their own. You can, however, relish the salty taste of roasted makhana snacks to manage untimely food cravings

Makhana seeds have a very long shelf life. All that you need to keep them fresh is store them in an airtight container to prevent moisture contamination
4 Simple And Scrumptious Makhana Recipes You Can Enjoy
There are many makhana recipes that you will come across. But not all those recipes are perfectly healthy. And keeping the health factor in mind, we have made a list of 5 makhana recipes that keep makhana nutrition intact and, in fact, increases it further.
1. Makhana Kheer Recipe For Fasting
If you've been wondering how to eat makhana during fasting, then makhana kheer is the dish you should be focussing on. As delicious as it looks, the steps to make makhana kheer are equally simple.?
Ingredients Required:
Chopped cashew nuts

Desi Ghee

Cardamom

Milk

Dry fruits

Sugar

Kesar

Makhana
How To Make Makhana Kheer For Navratri Celebration?
Take 1 tbsp desi ghee in a pan and roast ? cup makhana seeds and 3 tbsp of chopped cashew nuts in it. Continue roasting for about 2 minutes until the dry fruits change color and become crunchy

Let the roasted makhana seeds and cashews cool down. Once cool, take half the mixture and grind it

Use a deep pan to boil 1-2 cup of milk and add some sugar (according to taste) in it

Add the ground makhana powder and the remaining roasted makhana and cashew nuts in boiling water and cook till the milk gets thick

Garnish with cardamom powder for extra taste
Since the blood sugar during fasting is on the lower side, makhana kheer is considered very healthy. In fact, you can replace sugar with sugarfree to make this makhana recipe suitable for diabetic people.
2. Khoya Matar Makhana Recipe For Dinner
This is one of the rare full-course meal makhana recipes for dinner.
Ingredients Required:
Makhana seeds – 1 cup

Boiled green peas – 1 cup

Khoya – ? cup

Tomato puree – ? cup

Chopped onions – 2 tbsp

Ginger-garlic paste – 1 tsp

Desi ghee – 1 tbsp

Water – 1 cup
Spices According To Taste:
Turmeric powder

Chilli powder

Dhania powder

Salt

Garam masala

Clove powder
Steps To Make Khoya Matar Makhana Recipe At Home
Roast makhana seeds in ghee. Once roasted, keep them in a plate

Saute onions in the same ghee till they change color to golden brown

Add ginger garlic paste and saute for 1 minute before adding tomato puree in the pan

Add all the spices (according to taste) in the pan and mix all the ingredients well. Cook for 2-3 minutes till the mixture starts thickening

Add khoya in the pan and saute for 2 minutes

Add water to make curry. Let it cook for 5 minutes

Add soft boiled matar and roasted makhana in the pan and cook in sim flame for 4-5 minutes

You can use finely chopped fresh coriander leaves to garnish your makhana dinner recipe
Also read, Turmeric And Curcumin What Are Their Pros And Cons?
3. Healthy Aloo Makhana Recipe For Snacking
This is one of the best roasted makhana recipes that you can use as a healthy evening snack.
Ingredients Required:
Boiled potatoes (aloo) – 1 cup

Makhana seeds – 1 ? cup

Ghee – 1 tbsp

Chopped green chili – ? tsp
Spices As Per Taste:
Salt

Red chili powder

Jeera powder
Steps To Make Crunchy Aloo And Roasted Makhana Recipe
Heat a pan and roast makhana seeds till they change color. Do not burn them

Add ghee in the same pan after removing the roasted makhana seeds

Add boiled chopped potatoes in the pan and saute for 1 minute

Add all the spices and chopped green chili in the pan and mix well with potatoes

Once the potatoes change color and become crunchy (it should ideally take 8-10 minutes), add roasted makhana seeds in it

Mix well and garnish with coriander leaves
4. Roasted Makhana Munchies For Tea-Time Snacking
Having makhana snacks instead of chips is a good lifestyle change that will keep you healthy. And instead of buying makhana snacks from the market, you can follow the makhana recipe we have listed below.
Ingredients Required:
Makhana seeds – 1 cup

Cooking oil (preferably olive oil) – 1 tsp

Salt and pepper according to taste
Steps To Make Roasted Makhana Munchies
Heat olive oil in a pan and add makhana seeds in it once the oil gets warm

Turn the flame to sim and roast makhana in it for 10 minutes

You can check the crunch physically

Once crunchy, add salt and black pepper in the pan and mix well

Let the roasted makhana munchies cool down and enjoy
4 Surprising Makhana Side-Effects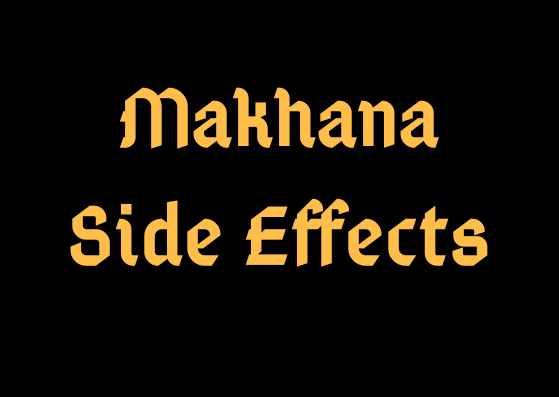 Whilst it's only makhana benefits that people are interested in, it is still necessary to learn about makhana side-effects too. Mostly safe, excessive consumption of makhana can still activate the following health concerns.
Diarrheat is one of the most common makhana side-effects that you should watch out for. Consult a doctor if the condition persists for more than 1 day

Roasted makhana is not recommended during cough and flu. Also, you must seek your doctor's consent if you are someone with a low immunity naturally

Makhana can reduce blood glucose level in people on a high insulin dose. Which is why, if diabetic, you should eat makhana only if deemed safe by your doctor

It is advised to get tested for makhana consumption if you have a nut allergy
Also read, 5 Wonderful And Effective Home Remedies For Vomiting
Frequently Asked Questions
Below is a list of frequently asked questions about makhana benefits and makhana recipes that you might find helpful.
Question 1: How is makhana produced?
Answer 1: Makhana is produced with makhana plant that is cultivated and harvested in the stagnated water all across eastern Asia. Makhana seeds, however, have to be processed to make them fit for human consumption. Processed makhana seeds are white in color and you can easily find them in any grocery store.
Question 2: How much makhana to eat in a day?
Answer 2: Undoubtedly, makhana snacks are delicious. But like everything else, there's a consumption limit beyond which makhana is harmful. 2 handfuls of makhana is considered enough for 1 day. However, be extra careful when pregnant or lactating.
Question 3: Is makhana safe in pregnancy?
Answer 3: The one question that most women ask is – Is makhana safe during pregnancy? And the answer is yes. Since makhana can increase hemoglobin level, it is found to be very useful during pregnancy. However, you should check with your doctor if you're in the right condition and the right candidate to eat makhana during pregnancy.
To conclude, Makhana Benefits are abundant and this dry fruit can help in improving your mental condition too – since it relaxes the mind and induces sleep. If you have any further queries about the benefits and correct dose for makhana consumption, do let us know by leaving a note in the comment section.