Hair fall has literally become a nightmare to you and commercial hair care products have even worsened the condition. Take a deep breath and relax! The solution is here, right in your hand!
Yes, we?re talking about hibiscus. If you are still not aware of the fact, the goodness of hibiscus for hair growth is miraculous and its usage is also pretty simple. While beauty enthusiasts go ga-ga over the power of bright red hibiscus flower for hair, the qualities of fresh green hibiscus leaves, can not be ignored. Want to know how this treasured herb can help you out? Explore various uses of hibiscus for hair growth and you will definitely fall in love with it. Here we go:
Why Is Hibiscus Good For Hair Growth?
You might be wondering why should one rely on a simple plant like hibiscus for her hair growth when there are tons of promising hair care products available in the market? Well, have a look at the benefits of hibiscus for hair and you?ll get our point:
Both the flowers and the leaves of hibiscus are rich in vitamins (A, B, C), minerals (calcium, phosphorous) amino acids, alpha hydroxy acids, and other vital nutrients, which make it a great food for our locks.
It is an excellent natural hair loss remedy that stops frequent hair fall, resolves bald patch issues, and induces hair growth significantly.
Using hibiscus leaves for grey hair is highly effective. It not only prevents premature greying but also helps in the restoration of natural hair color.
Regular use of hibiscus can make the hair fibres stronger, softer, smoother and shinier.
Benefits of Hibiscus for Hair Growth
The flowers and leaves of hibiscus plant can be included in our hair care regimen in a number of ways and all of them are surprisingly easy to practice. Here we have listed some benefits and uses below:
1. Hair Loss:
It is an excellent natural?hair loss?remedy that stops frequent hair fall. If you want to experience the magical power of hibiscus for?hair loss, try making this herbal shampoo at your home. Take 6-7 fresh flowers of hibiscus, 10-12 tender hibiscus leaves, and the outer skin of 8-10 soapnuts. Boil all the ingredients for 10 minutes in 4 cups of water. Once the mixture reaches the room temperature, make a paste out of it. Strain the excess water and use the remaining creamy mixture as shampoo. It will cleanse your scalp and make your hair?fibres stronger to prevent hair loss.
2. Hair Regrowth:
Hibiscus does not alone reduce hair fall, but it also promotes hair regrowth. It resolves bald patch issues and induces hair growth significantly.
Make Hibiscus Oil at home for hair regrowth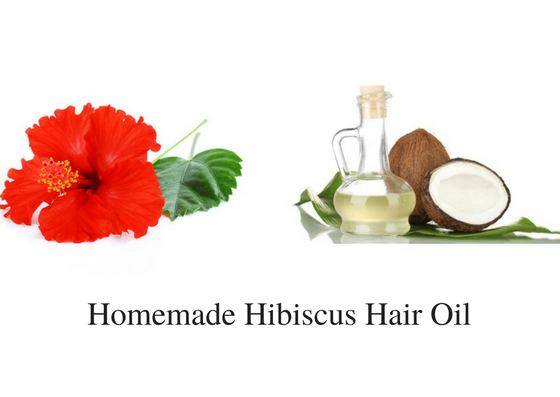 To prepare hibiscus oil for hair at home, you have to take a handful of fresh?hibiscus flower petals, 10-12 tender hibiscus leaves, and 1 cup of pure organic coconut?oil. Crush the clean petals and leaves, add them to coconut oil, and bring the mixture to a boil. Cool it down and massage it gently into your scalp for 5-10 minutes by moving your fingertips in a small circular motion. If you want to use hibiscus for?hair growth, this is the ideal way as it will nourish your scalp, stimulate blood flow, and promote the growth of hair strands remarkably.
You may also try?Dabur Enriched Coconut Oil with Hibiscus?or?Dove Elixir Nourished Shine Hibiscus and Argan Hair Oil.
3. Conditions Hair:
Dry hair problems can be managed efficiently by using hibiscus leaves and flower. It conditions and nourishes hair locks and scalp, thereby keeping at bay various other problems that stem from dry scalp. A simple hibiscus paste for hair can curtail your conditioner needs. Make a thick paste by grinding some fresh hibiscus flowers with water and apply it all over your hair focusing on the hair follicles. Rinse off with tepid water after an hour or so.
4. Makes hair smooth and shiny:
The most famous and commonly known benefit of hibiscus for hair is that it makes hair shiny, smooth and luscious. Regular use of hibiscus will strengthen hair strands and make them bounce with lustre and life.
5. Control scalp itchiness:
Since hibiscus treats dry scalp, you will eventually benefit from reduced scalp itchiness. If you have any itchiness that isn't from lice and nits, you should try hibiscus.
6. Reduces dandruff:
Hibiscus leaves and flowers also possess anti-dandruff properties.
7. Natural hair colouring agent:

If you are fond of hair colouring but for all good reasons you are hesitant about it due to the harsh chemicals that come with hair colouring agents; fret not for hibiscus is here. A homemade concoction of hibiscus tea is an excellent hair colouring agent that you can try without the fear of side effects. Prepare a strong cup of hibiscus tea by boiling the petals of 15-20 fresh, bright red flowers in water. Rinse your hair with it after shampooing and conditioning thoroughly. It will add beautiful reddish to dark red hue to your strands. The use of dry hibiscus petals or readymade hibiscus powder for?hair color?is also quite popular.
? ?Buy it from here:?Natural Hibiscus Powder (Hibiscus rosa-sinensis).
8. Controls premature greying:
The amazing nutrients in hibiscus will enrich hair follicles and prevent premature greying. You can maintain hair lustre and hair colour and keep greying away.
9. Stops hair breakage and split ends:
Stronger hair shaft and strands means less of hair breakage. Hibiscus will strengthen your hair completely from shaft to tip, thus giving you hair from breakage and split ends.
10. Stops hair thinning:
Hibiscus will supplement hair proteins and ensure your hair not just gets stronger but thicker as well. You will notice reduced hair thinning with regular use.
Hibiscus Packs and Hair Masks
You may also use hibiscus flowers and leaves in your regular hair packs and masks for some added advantages. We tell you how:
To use hibiscus for hair regrowth, crush a handful of flowers and leaves and apply it all over your scalp and hair by mixing with some pure olive oil.
A pack of amla and hibiscus for hair is just amazing as it stops hair fall and encourages hair growth. Just grind some hibiscus flowers, add fresh and raw amla juice to it, and apply to your scalp.
Make a curd?hair mask with hibiscus by combining the paste of a handful of hibiscus leaves with 4 tablespoons of plain curd. This will provide nutrients to your hair fibers so that they can grow healthier and stronger.
In a nutshell, hibiscus can turn out to be a one-stop solution for your all hair problems. Go natural and try hibiscus. It really works!