Bought your favourite hair styling appliance and wondering "How to use this Philips hair styler?". This 10 step guide is just for you. Read on…
?Step 1:
Before you use any kind of hair styling appliances like rollers, curlers or hair straightener, wash your hair properly. Use a mild shampoo to wash your hair and then use a conditioner to smoothen your hair. You can also use a leave-on conditioner while thermal ironing or curling.
Step 2:
Once you?re done with a conditioner, use a blow dryer to dry your hair completely. Even if your hair is slightly damp, the hot iron or curler will seriously damage your hair. Your hair will simply get cooked by the elements in the ironer or curler.
Also read?17 Best Hair Dryers in 2019 You Should Know About
Step 3:
Dryers often tend to damage your hair. But they are very helpful if you use them the right way. A leave-on conditioner will best work before start your dryer. Your dryer should be 6-8 inches away from your hair. Do not take the dryer very close to your scalp.
Step 4:
Now that you are done drying your hair, proceed with a roller or ironer. Hair stylists recommend flat irons for curly hairs and curlers for straight hairs. ?You get separate flat irons and curlers in the market or 6 in 1 hair stylers will serve multipurpose use. Philips HP4696/22 6 in 1 Hair Styler HP4696/22 6 in 1 Hair Styler is the best of multipurpose hair stylers in the market. Rated high and has best reviews! Buy rollers or ironers in accordance to your hair size.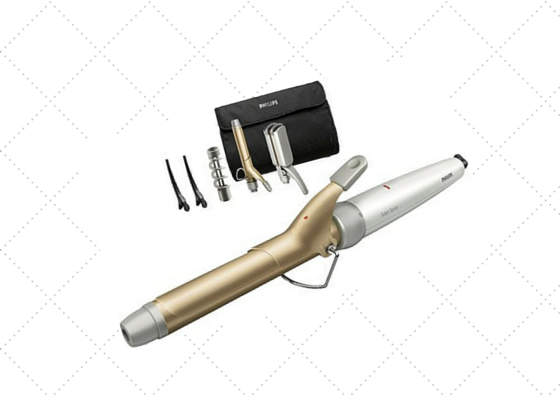 Buy this hair styler at –>?http://lifestylica.com/out/philips-hp4696-22-6-1-hair-styler
Step 5:
Be it an ironer or a curler place medium amount of hair on to it. When you place a thick bunch of locks on any styler you will not get any kind of results. Curls will not set properly and your hair will not be straightened as you prefer it to be.
Step 6:
Before you start with curling or ironing, use a hair styling product like a hair spray or holding gel that gives amazing results. When you curl your hair after applying it with a spray or a gel, the curl sets perfectly and ?lifts? up to give a bouncing look. A little amount of gel or spray is enough. You can probably try using?Schwarzkopf Professional Osis + Sparkler Hair Styler?and Nova Super Firm Hold Hair Styler?for salon treated look and feel.
Buy Nova Hair Styler at -?http://lifestylica.com/out/nova-super-firm-hold-hair-styler
Buy Osis + Hair Styler at -?http://lifestylica.com/out/schwarzkopf-professional-osis-sparkler-hair-styler
Step 7:
If your ironer has an indicator, then well and good, you can proceed with styling your hair. But if it doesn?t, place a damp tissue on the ironer. If it gets burnt up, it means your ironer is too hot. To avoid such risks better buy a hair styler with a heat indicator. Philips HP8315/00 hair straightener is specially equipped with an automatic shut-off system which might be helpful for safety purposes.
Step 8:
As said earlier place a medium amount of hair on your hair styler and then switch on the styler after checking its temperature. If you?re using a curler, wrap medium portions of hair on the curler and do not remove it immediately. Once you have placed you hair on the curler wait for it to hold it securely. Wait for the curler to cool and then remove your hair. Only then will you have perfect curls, if not your curls won?t last long.
Read here 13 Best Hair Growth Oils
Step 9:
While styling your hair, use the clip or fasteners provided along with your stylers for a perfect hair grip. You have the advantage of selecting specific portions of hair that you want to be curled or straightened. For tight curls use a short curler and for soft ones use a long curler. If you have long hair, then buy a straightener with extra wide plates.
Step 10:
Do not touch or disturb your curls until they are perfectly set. When you?re straightening your hair, do not remove it until the time required for straightening. You will end up having reverse results. First-time users, read the user manual carefully before hair styling.
Happy Hair Styling!
Read on: How to grow hair faster?