Every single time we comb and wash our hair, we face our worst nightmare- Hair fall. Huge and precious chunks of hair that fall either in the comb or in our towel give us a tough time. We all love our hair and do every possible thing to make it look healthy and glossy. Most of the times we don?t realise why we lose so many hair strands every single day. Experts believe that an average woman loses up to 100 strands per day. But the real problem begins when you lose more than 100 strands per day. The dust-stricken, pollution filled atmosphere makes our hair go haywire every time we step out of the house. And that?s not the only reason for hair fall. Check out the causes for hair falling out in clumps!
Why is my hair falling out?
What is the first thing we do when we realise our hair is falling? We panic and get anxious about it- and this is one of the most important causes for hair loss. Luckily, anxiety related hair loss is only fleeting and therefore you can combat it by reducing stress. If hair loss is a recurring feature in your family, then you are more likely to fall prey to this condition. Insufficient diet can also cause hair fall, so make sure you consume enough protein-rich foods to nourish your hair. Physical stress and ailments also contribute to hair loss. Interestingly, experts also say that when you wear tight ponytails and pigtails using elastic bands or use curling and straightening irons frequently, you become a victim of hair fall.
What should I do to control hair fall?
It is easier to stop hair fall if you act before much damage is already done. Receding hairline, more than regular hair fall- these are warnings, so pay attention. No treatment would retrieve the lost hair overnight. Therefore it is important to wait with patience to get good results. Take a look at these homemade hair masks that curb hair loss and stimulate hair growth.
Egg treatment:
Remember, your hair requires a lot of proteins, vitamins A and D to grow. An egg has it all. It is a rich source of protein and hence it keeps most of the hair problems at bay. Plus, it is economical. Try out these hair masks using egg as a major component. These masks rejuvenate and strengthen your locks and promote growth.
You can prepare an egg yogurt mask. Take one egg and whip it until you get a foamy texture. Add Yoghurt to the whipped egg and mix it well. Apply this mask to your head. Rinse your hair after 15-20 minutes of application. Use a mild shampoo and wash it in lukewarm water.
Take two egg yolks. Add two tablespoons of olive oil and half a cup of water. Mix it well and apply this mask in your scalp. Allow this mixture to work its way through your scalp and hair for 15-20 minutes and then it wash it thoroughly.
Coconut:
If you are not an egg-friendly person, do not worry. Coconut milk can help you curb hair loss. This is the simplest of all ways.
Just apply coconut milk onto your hair, massage it all over your scalp and leave it for 15-20 minutes. Cover a towel or wrap it with a plastic cover and wash your hair after 15 minutes. Coconut milk is an excellent home remedy for hair fall.
But if you are allergic to coconut milk and feel like it will give you a headache or make you catch cold, you could try Organix Coconut Milk Shampoo, 385ml. The creamy foaming hydrating formula leaves your hair feeling clean and also prevents hair fall. This paraben free shampoo consists of organic coconut milk and also leaves your hair super-scented. You can consider this organic shampoo as a substitute to coconut milk.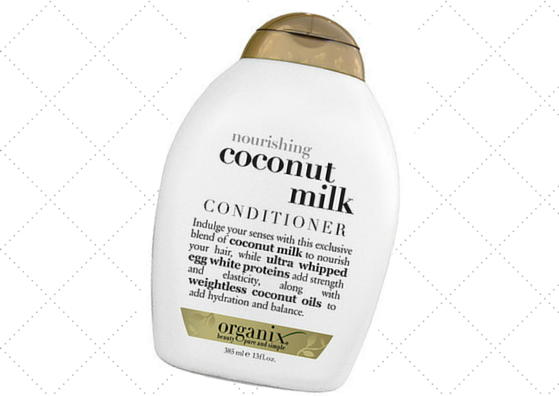 Grab Organix Coconut Milk Conditioner at –>?http://lifestylica.com/out/organix-coconut-milk-conditioner
Coconut oil is also highly beneficial for the promotion of hair growth. Heat some coconut oil over a stove. Avoid overheating. Use your fingertips and gently massage your scalp with this oil. Make sure every strand gets its share. Nothing works better than warm oil massage as it can easily seep through your hair. Leave the oil overnight and rinse it with a mild shampoo next morning. You can do this three times in a week to get good results. Coconut oil gives volume and restores the lost lustre to your hair
Henna:
You can make your own remedy using henna leaves to battle against acute hair loss. It has properties to repair hair and promotes growth.
To do this, you will need 250 ml of mustard oil and henna leaves. Make sure you use wash and dry these leaves before use. Mix them and boil until the leaves get burnt. Filter this mixture and use the oil to massage your scalp. You can apply this oil every day for better results.
Though Henna is an excellent remedy for hair loss, it doesn?t suit people who have sinus issues.
Onion hair mask:
Onion is extremely influential in hair growth. It is a cure to treat hair loss caused due to hereditary. The onion juice is capable of triggering hair re-growth.
You can apply the onion juice on your scalp before hair wash. Extract the juice by chopping the onion into smaller pieces and put them into a juicer. Apply the juice all over your scalp. Rinse your hair with a mild herbal shampoo after 45 minutes. This stimulates hair growth.
Green tea:
Green tea is beneficial not only for a natural weight loss, but it is also instrumental in reducing hair loss. It contains vitamins E and C that enhances hair growth.
Soak two-three bags of green tea in water and use that water as the last rinse after you shampoo and condition your hair.
Beat an egg along with 2tbsp of green tea and prepare the mask. Apply this mask on her hair and rinse it after 30 minutes. Repeat this process three times a week to prevent hair loss.
Fenugreek:
This wonder spice is filled with protein and counters hair loss very efficiently. It strengthens and repairs the hair from the root. So, this is what you need to do with fenugreek seeds to treat hair loss-
Prepare a powder by grinding the fenugreek seeds in a mixer. Add 1tbsp of coconut oil to the powder. Apply the mixture paste on the scalp. Wash it off with a mild shampoo after ten minutes.
To stimulate hair growth, make a paste by grinding the fenugreek seeds and mix that paste with coconut milk. Apply this paste on your scalp and wash it off with water or a mild shampoo after 30 minutes of application.
Hibiscus:
Hibiscus plant is an amazing solution for all hair problems, particularly hair loss. You can prepare a hair mask using hibiscus and?amla which are the two major components that can thwart hair loss most effectively.
Pluck some hibiscus leaves from your garden, crush them and mix it with amla powder and water. Apply this paste to your hair, concentrating more on the scalp and roots. Wash once your hair starts getting dried. This is a great hair mask for hair loss.
Avoid Amla if you have extremely dry hair. Instead, you can crush few hibiscus flowers and mix it with coconut oil and apply this paste to your hair. Leave it for an hour and wash it off with a mild shampoo.
A Word of Caution: As fenugreek and hibiscus are highly cooling agents, I suggest users with sinus issues to avoid using great portions of those pastes. Also, avoid regular use because they have a cooling effect on your body.
Hair is closely associated to our self-esteem. The nature of our hair decides our looks, even our mood in some cases. A bad hair day can so be so long, tiring and disappointing. Hair loss is just another hair problem that can be curbed with a little effort, provided you identify it and counteract at the earliest.