Sesame Oil is extracted from sesame seeds, one of the healthiest oil producing seeds ever known. The oil can lower blood pressure, build strong bones, reduce inflammation, improve health and infuse a good amount of healthy fat into your body. It has a dark brown colour and a nutty taste that needs some acquiring. Even if you are not really up for consuming the oil internally, you can still use it with great results on your hair and skin. Today, we will tell you about sesame oil benefits for your hair and few ways in which you can use this oil for strong and luscious hair.
Sesame Oil Benefits for the Hair
Improves Circulation
The oil has warming properties, as opposed to coconut oil which is cooling. Massaging your hair with sesame oil revitalizes your hair follicles. This, in turn reduces hair fall and improves hair growth. For added benefit, you can warm up a ladle over a flame, switch off the flame and then add half a cup of sesame oil to it. The oil will now be warm enough to seep into your follicles and nourish them completely. Massage the sesame oil?onto your scalp with your fingertips and let it work its magic. Wash it off after soaking it in for at least one hour.
Strengthens the Hair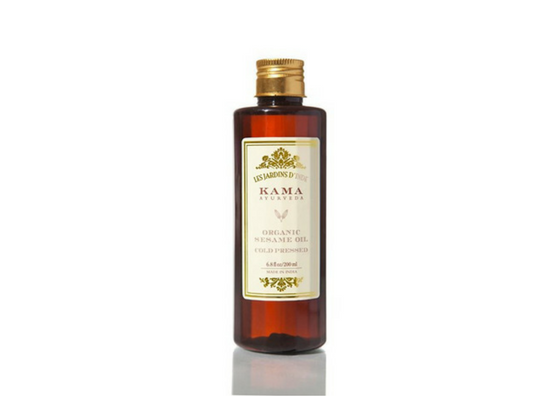 Here's a video that details the benefits of Sesame oil for hair.
Your hair is primarily made up of protein and the best way to strengthen it is to reinforce the amount of protein in it. When we talk about sesame oil benefits, one of the reasons why we recommend the oil for hair strengthening is because it is rich in proteins. Massaging your hair with organic sesame oil is a good way to strengthen your hair. While doing so, make sure you coat every single strand of your hair with the oil. Wrap your hair with a warm towel after this and let the oil penetrate into the hair shaft. Wash it off with a mild shampoo after an hour. Regular use will endow you with strong and beautiful hair.
Also read How To Grow Hair On Forehead In A Week
Treats Flaky Scalp
Sesame oil is rich in zinc and Omega-3 fatty acids – two potent ingredients that help fight dandruff. Goes without saying that sesame oil is a surefire remedy to get rid of an itchy and flaky scalp. To treat dandruff, take a few drops of sesame oil and massage it well into your scalp every night. Wrap your hair with a scarf and go to sleep. Wash your hair the following morning using a mild shampoo or hibiscus paste. Doing this repeatedly for a week will totally eradicate dandruff from your scalp.
Promotes Hair Darkening
Sesame oil benefits for your hair are aplenty. But the one benefit that is definitely going to bring a smile to your face is the fact that it does not just fight premature greying, but also promotes darkening of hair. So all of you ladies who are filled with dread at the sight of a few greys, take to sesame oil immediately. Regular massage, at least twice a week, before your shampoo will do the trick.
Increases Shine and Luster of Hair
Sesame Oil has deep conditioning properties making it an excellent choice in homemade hair masks. If you want to improve the shine in your hair, mix two teaspoons of sesame oil with equal parts of yogurt and honey and apply it all over the length of the hair. Cover your hair with a shower cap and let the mask dry. After a couple of hours, wash it off with lukewarm water and a mild shampoo. This mask will add shine to your hair and also improve its silkiness.
Read here 13 Best Hair Growth Oils
Conditions the Hair
Instead of investing in an expensive leave-in conditioner that is ridden with chemicals, we suggest that you rub a few drops of sesame oil, mixed with your favorite essential oil between your palms and run your hair through your hair. This mixture will not just condition your hair but will also leave it smelling great!
Sesame oil benefits do not end here. If you have the tendency of catching cold with an oil massage, sesame oil is the best oil to suit your purpose. Its warming nature will ensure that you do not catch a cold. Replacing your regular hair oil with sesame oil, at least during the winter will be of great service to your hair. The oil can revitalize your damaged hair, add shine to it and restore your hair health like magic!