One – Everybody wants to look good, no denials there.
Two – 'The efforts and product inventions to make one look dashingly beautiful are largely applicable to the women population', again, no denials here.
These two are the sole surviving reasons of all beauty product manufacturing companies. The constant innovation in their products always bet on the drive within every individual to look beautiful at all times. A wide array of beauty creams and makeup products are the ones that promise to fulfil the hope of a photo-ready skin, round the clock! The latest entry into this list, BB and CC creams in India. The BB and CC creams are revolutionary products that most women are grateful for. Although the Indian market is a new home for this beauty product, the West and the East have been familiar with them for few decades now.
What are BB and CC creams?
BB stands for 'Blemish Balm' or 'Beauty Balm'; CC stands for 'Colour Corrector' or 'Colour Correcting'. On the whole, they are creams that bridge the difference between your skincare creams and makeup. BB creams came into existence as a 'Blemish Balm' in Germany, for use after cosmetic surgical procedures. Later, BB creams became popular in Korea, USA and Asian countries, and slowly emerged the variations into it as CC creams (and DD creams, coming soon!). To make it simple, with BB and CC creams, you can skip the whole part of serum, moisturizer, sunblock, primer, concealer and foundation, when you are in a quick need of makeup emergency.
BB creams are the best tinted moisturizers! They work on uneven skin tone, provide good coverage on blemishes, spots, freckles and wrinkles, and contain the additional benefits of a sunscreen to protect skin against sun damage. The SPF amount and the other miracles that the creams promise on your skin vary in each brand. If you want to make a quick start to your day with a good moisturizer and a tint of makeup all at the same time, BB cream is the best choice.
CC creams are not far away from the former, except minor differences. CC creams are colour or complexion care creams. They focus majorly on evening skin tone, redness and dark spots. Although there aren't any proven results on improved complexion or lightened dark spots, CC creams are also a good base before starting on makeup and they provide a decent coverage. 'Even skin tone and colour', this one you can trust with CC creams.
Any regular liquid foundation would do a great job on providing brilliant coverage on the blemishes and pores. But, the advantage that one gets from BB and CC creams is that they are light and suitable for everyday use, come at a much affordable rate when compared to foundation, setting powder, primer, and every other makeup base product. Whereas, with BBs and CCs- an even application of BB or CC cream, little compact, a good lipstick or lip balm, kajal, a neat hairdo and you are good to go!
The Indian range of BB and CC creams are slightly different from the West, to suit the need of Indian skin tone. To help you out in making the right pick, here we have the top 11 BB and CC creams in India! Check them out…
1. Missha M Perfect Cover BB Cream
This Korean BB cream is a forerunner to the present day BB creams in the Indian market. Missha M Perfect Cover BB Cream is a very effective BB cream with a good SPF 42 as a bonus! Just a small amount of the product is good enough and it blends well, has a calming smell, works on wrinkles and age spots and it has a pump (hygienic and easy to use). This BB cream is definitely worth the time and money!
Pros:
Coverage is brilliant, even on wrinkles and acne scars
SPF 42 as a sun block
Quantity and quality are flawless
The smell (amazing!)
Cons:
Available only online
The shade is a little darker (could be positive for those who prefer a natural look)
2. Colorbar Perfect Match Beauty Balm
Colorbar Perfect Match BB cream lives true to its name by perfectly matching the works of skincare cream and makeup creams. Light as mousse, this BB cream also comes with the additional perks like; SPF 20, antioxidants and botanicals. It works on skin damage and aging, protects and nourishes the skin. The coverage is smooth and does not settle within the pores. Stays throughout the day and does not make the skin oily! For a good makeup base that blends well with your skin and is long lasting, this is it!
Pros:
Does not cause breakouts
Give sheer matte finish
Do not patch or settle on pores
Good coverage on mild imperfections
Long lasting
Does not contain Parabens!
Cons:
Coverage isn't all that great. Does not cover acne marks and dark circles

Moisturizing isn't great either. Dr skinned people should definitely moisturize beneath this BB cream.
3.Lakm? Complexion Care Cream
The Lakm? Complexion Care CC cream was the first CC cream in India (which was just a few years back). With its wonderful coverage and airbrushed makeup finish, the Lakm? CC cream is a hit among many. It comes in 2 shades, has the typical Lakm? products smell, blends in beautifully (although you might need some extra amounts since the consistency is thick), quite affordable! Apart from the colour correction which this CC fulfils faithfully, as a good makeup base, this product does not live up to the mark. It does make the skin oily after a few hours and requires frequent touch ups, this lets our hopes down.
Pros:
Coverage is good
Airbrushed makeup finish that you would love!
Affordable
Travel friendly
Cons:
Makes skin oily, not long lasting
Thicker than other CC and BB creams and thus it is heavier on the skin
4. L?oreal la creme True Match Skin Idealizing BB Cream
Yet another natural makeup looks from the L'oreal BB cream. The 3 shades; Ivory, Neutral and Warm, are good picks to use based on individual skin tone. This easy to blend and light to wear BB cream comes at an affordable price and high SPF. However, the major drawback is, it might be suitable for all weather and skin types. The high moisturising capacity and SPF 35+++ leaves behind whitish cast and oily skin when you fail to blend the cream in well and use a setting powder above it. If your city is not forever sunny and if you do not have an oily skin, the L?oreal la creme True Match Skin Idealizing BB cream could be the right choice for you.
Pros:
SPF 35+++ makes it an ideal choice to wear every day
Super light and gives a translucent glow to the skin
Gives a natural coverage to the skin, nude makeup like!
Blends into skin with easy
Cons:
Does not provide long lasting effects
Makes skin greasy and oily, if you already have oily skin
Not the right pick during summers, the effect wears out after a few hours
Setting powder or compact over it is a must (again, depends on your skin type)
Leaves a white cast (if not blended properly)
5. MAC Prep and Prime BB Cream
A blessing from MAC! This BB cream provides everything perfectly- light to wear, good coverage, the benefits from the primer, SPF 35. And it all works wonderfully. The MAC Prep and Prime BB creams comes in 9 shades to suit different skin tones (which could be an advantage and not). The cream spreads smooth on the skin and covers fine lines, blemishes and acne marks. However, those with severe acne may not be satisfied with the medium coverage that this provides. But, the work of leaving your skin looking youthful, clear and moisturized throughout the day, absolutely brilliant job! To purchase MAC Prep and Prime BB Cream, click the button!
Pros:
Light and easy to wear (not at all heavy on the skin!)
Good coverage
Fruity pleasant smell
Not at all greasy, just moisturized glowing skin
SPF 35!
Little is much, a small amount goes a long way
Cons:
Can lead to breakouts in some due to its silicon content
The price (but, worth every penny)
6. Olay Total Effects 7 in One Pore Minimizing CC Cream
The Olay Total Effects 7 in One product have their own line of promises; supple, smooth, clear skin with minimized wrinkles and fine lines. The same claims go into the Olay Total Effects 7 in One Pore Minimizing CC Cream. However, here the added benefits from makeup finish are the highlight. This CC cream has an extremely light, watery consistency that makes its super easy to blend into your skin. The natural finish for everyday makeup, bouncy, supple and smooth skin, medium coverage on blemishes and minimizing pore size; is all true from this product! But, the claim to reduce fine lines and wrinkles hasn't gotten a positive response.
Pros:
Works on dull skin and improves skin texture, making it smooth and supple
Reduces pore size like a pro!
Doesn't cause redness, breakouts or irritation
Extremely light to use
Little goes a long way
Travel-friendly and affordable
Cons:
Not long lasting
Coverage isn't great either
The fragrance could be a problem for few
Doesn't help with fine lines and wrinkles as it claims to do.
7.Maybelline Clearglow BB Stick
Differing from the creams, Maybelline Clearglow BB Stick has benefits of its own. Perfect choice to hide imperfections and keep the 'clearglow' to last! The BB stick has a smooth texture, that also spreads smooth and gentle on the skin. Stroke the BB stick on your cheeks, nose, forehead, jaw lines and focus on the areas that have blemishes. Evenly spread the creamy power out. Covers blemish instantly and highlight skin with a healthy glow! The Maybelline Clearglow BB Stick is a wise choice for purchase because, its salicylic acid content balances between combination and oily skin and is easy to touch up whenever the need be. It is sebum and sweat resistant and has a lovely matte finish, that keeps you ready to glow all day long!
Pros:
SPF 21+++ to protect your skin from sun damage
Extremely light on the skin. Powdery finish
Travel-friendly and easy to use
Spreads like magic
Provides good coverage
Sweat and sebum resistant. Does not leave skin shiny or oily
Affordable pricing
Contains salicylic acid
Cons:
12 hours oil control is not so true. It needs touch ups

Available in 2 shades only (which could be a limited option for few)
8. The Body Shop All-in-One BB Cream
A remarkable product that gives wonderful results- The Body Shop All-in-One BB Cream! With the soft texture and effective ingredients, this BB cream is different from the rest in one thing- microbeads. The minute microbeads in the cream release the tinted pigment that provides the required coverage. Now, for the cream's performance review; coverage is medium (good for mild blemishes), the cream gives a matte and blurry like finish which makes the skin looking smooth and even toned, it spreads easily and is light on the skin, moisturizing, leaves the skin looking bright, glowing and soft tinted. Sadly, it is priced expensive, but, definitely worth it! Pat some setting powder over The Body Shop All-in-One BB Cream and you are good to go for the day.
Pros:
Amazing formulation, that works!
Makes skin bright and glowing
Light on the skin
Covers blemishes
Don't clog or leave white cast
Little is much
Cons:
Expensive
Available in 2 shades only
Could get slightly greasy without powder for those with oily skin
9. Maybelline Dream Fresh BB 8-in-1 Beauty Balm Skin Perfector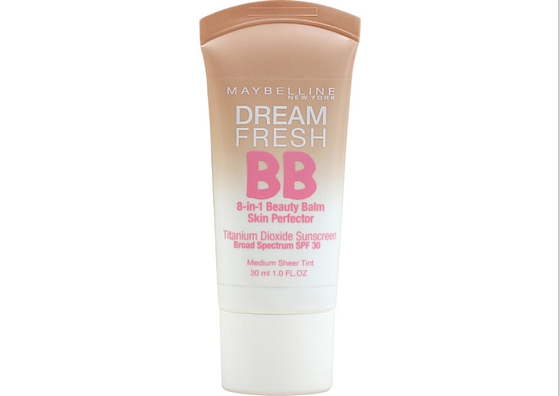 Beautiful skin instantly with the Maybelline Dream Fresh BB 8-in-1 Beauty Balm Skin Perfector! The product claims to enhance, brighten, hydrate and smoothens the skin. It does a good work on concealing blemishes and even acne marks. The cream is available in 5 different shades and is long lasting as a foundation base.
Pros:
Coverage is good
Good for combination skin
Long staying
Blends well
SPF 30 for sun protection
Cons:
Might not be the right pick for oily and acne prone skin (gets a little greasy)
10. Clinique Age Defense BB Cream
The BB cream from Clinique is similar to the reviews received on L'oreal la creme True Match Skin Idealizing BB Cream. It is not a good purchase for all weathers, however, the Clinique Age Defense BB Cream has its own benefits. The product contains several natural extracts (barley extracts, wheat germ extract, linoleic acid, etc.), antioxidants and SPF 30. The SPF and natural skin toners and moisturizers make this BB cream suitable for everyday use as a primer. But, those with dry skin, may not be a fan of this product. Coverage on blemishes is passable, and so are its long stay claims. However, it certainly prevents tan and does not cause any breakouts.
Pros:
SPF 30 prevents tanning
Does not cause breakouts
Good to use as a primer to have your makeup last longer
Sweat resistant
Cons:
Thick in texture, difficult to spread
Leaves white cast

Dries the skin
11. Deborah Milano 5 in 1 BB Cream
This is another wonder-working BB cream that keeps to its claims. The coverage offers on dark spots and blemishes is impressive. Deborah Milano 5 in 1 BB Cream is long staying, easy to spread, comes in 5 shades, evens out the skin tone perfectly, and comes with UV protection. It requires some amount of touch-up whenever needed and gives a dewy glow!
Pros:
Good coverage (even on redness)
Gives a matte finish
Long staying and easy to spread
Leaves skin dewy and glowing
Cons:
Has a running consistency
Moisturizer is required before its application
The Indian market has been exposed to several beauty and makeup products. With the changing years, it is only right to say that the number of women who are opting for everyday makeup is widely increasing. The BB and CC creams are a boon for the last minute makeup women. We hope that you find this list of 11 best BB and CC Creams in India comprehensive and helpful. You are welcome to add more to the list and offer your reviews on the products mentioned. Wishing you good makeup day, every day!