In India, having fair skin is considered beautiful. Each person is born with a unique skin color which we need to accept and appreciate. Dusky and darker skin tones are beautiful and there should be no denying or discrimination towards this. Skin lightening is when the cream works on the layers of your skin to remove the tanning that has been caused due to sun exposure. Skin whitening, which is changing the natural colour of your skin is also available with a huge risk of causing permanent and dangerous consequences to your health. Here is a list of skin lightening creams that will help to reverse tanning.
1. Himalaya Herbals Revitalizing Night Cream
CLICK HERE FOR BEST PRICE
What it does
Himalaya Herbals Revitalizing Night Cream penetrates deep into the skin to make it soft and supple. It works overnight on the skin, moisturizing the skin with its perfect combination of essential oils and vitamins. It also smoothes the skin, lightens and reduces the appearance of freckles and age spots. You will notice improved skin texture and repaired damaged sin cells.
2. Himalaya Herbals Clear Complexion Day Cream
What it does
Himalaya?s Clear Complexion Whitening Day Cream gives a radiant glow to the skin. The herbal extracts and CINNABLO hydrates the skin, lightens skin tone and clears complexion. CINNABLO provides UV protection and prevents skin darkening.
3. Olay Natural White Light Instant Glowing Fairness Cream
What it does
The Olay Instant Glowing Fairness cream contains a triple vitamin system. The non-greasy formula gives you All-in-One Fairness with skin that glows in an instant. It corrects uneven skin tone, provides sun protection and also lightens skin tone.
4. Olay White Radiance Advanced Whitening Skin Cream Moisturizer SPF 24
What it does
Olay White Radiance offers advanced whitening skincare products that penetrate to the bottom cell layers for bright luminous fairness. It contains Vitamin B3, Pro-Vitamin B5, and Hesperidin that whitens the skin from deep within the epidermis. You will get supple and glowing skin over a few weeks' time.
5. Biotique Bio Dandelion Ageless Lightening Serum
CLICK HERE FOR BEST PRICE
What it does
Biotique Bio Dandelion Ageless Lightening Serum has a rare combination of pure dandelion, rich in Vitamin E and minerals, blended with nutmeg oil. It helps to brighten skin, fade dark spots and ease away wrinkles for a flawless complexion. Dandelion, an herbaceous, anti-microbial plant, has the properties to heal acne, eczema, and psoriasis. It also nourishes, clarifies and rejuvenates the skin.
6. O3+ Radiant Whitening Day Cream Spf-30
BUY NOW
What it does
The O3+ Radiant Whitening Day Cream gives a broad spectrum of sun protection, professional whitening and moisturization. It guards the skin against external environmental aggression and works on the skin deep from within to boost skin texture and brighten the skin. Ideal for normal to dry skin and for daily use.
7. Neutrogena Fine Fairness Brightening Serum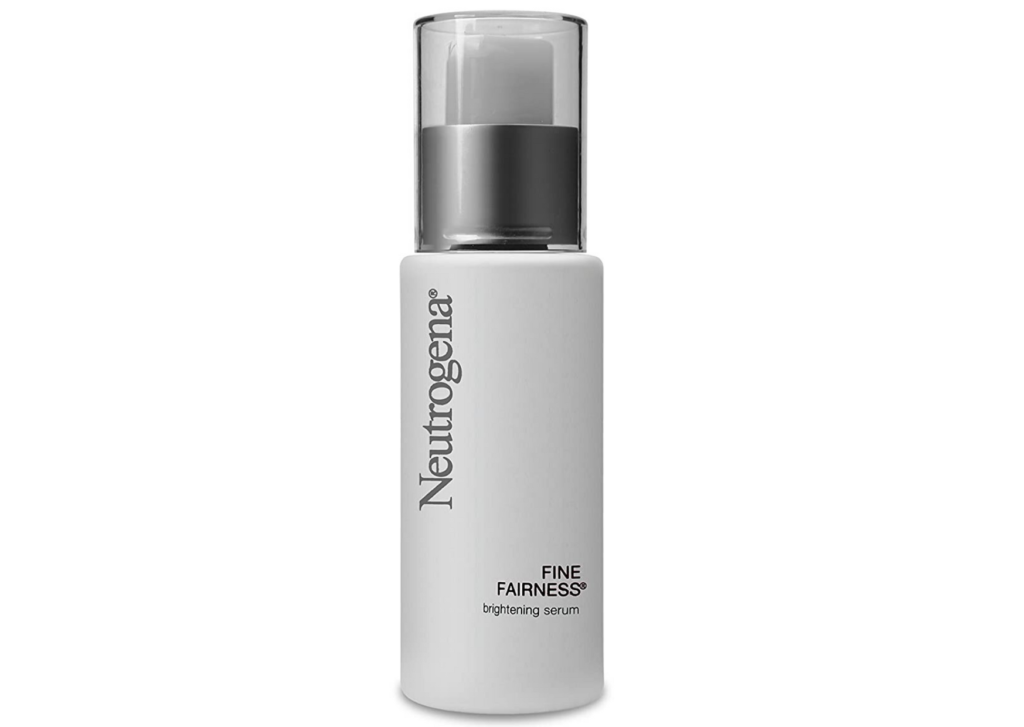 CLICK HERE FOR BEST PRICE
What it does
Neutrogena Fine Fairness Brightening Serum absorbs easily into your skin and refines your skin texture. It is infused with Neutrogena Healthy White Complex which inhibits the production of melanin and provides your skin with a healthy and radiant glow. With regular use, you can have improved skin tone and texture.
8. Just Herbs Fair?e Mulethi-Khus Skin Brightening Night Gel
BUY NOW
What it does
Make use of the blend of exotic natural extracts from wonder herbs, infused into this night gel to fade away dark patches and spots. The gel contains natural ingredients that help detoxify the blood and boost circulation to fade freckles and skin discolorations. It promotes skin regeneration and rejuvenates the sun-damaged skin cells for visibly fairer and radiant skin, while also controlling the melanin-producing mechanism.
9. Avene D-Pigment Light
What it does
Avene D-Pigment Light reduces localized or widespread dark spots, prevents the appearance of new dark spots and evens out skin tone. It contains Melanyde, a depigmenting active, with Retinaldehyde which is a lightening active and natural retinoid derived from vitamin A, Pre-tocopheryl, a protective anti-oxidizing active and a precursor to vitamin E, and more. It is free from fragrance and parabens.
10. Aroma Magic Vitamin C Day Cream
BUY NOW
What it does
Aroma Magic Vitamin C Day Cream keeps your skin moisturized and supple for over 6 hours. It has a soft, non-greasy that easily blends on your skin. Its Vitamin C content will keep your skin healthy and radiant. It also prepares skin to be a smooth canvas to apply foundation.
11. Aviance White Intense Visible Radiance Day Gel
What it does
The Visible Radiance Day Gel contains dual sunscreens, vitamins B3 and C to brighten the skin and restore its true clarity. UVA and UVB provide protection from the sun and tanning, and also reduce the visible effects of aging. It has been designed to fight against free radicals and give your skin a unique and luminous radiance. It maintains your skin to remain soft, supple and even-toned.
12. Forest Essentials Lightening and Brightening Tejasvi Emulsion
What it does
Give your give the goodness of Ghee and a luxurious mixture of natural ingredients to get extraordinary lighting of the skin tone and brightening of the skin. The wild turmeric helps to purify and refine the skin texture, lighten and brighten the skin giving it a healthy glow. Get fairer, supple and radiant skin over just a few weeks' time.
13. The Body Shop Drops Of Light Pure Healthy Brightening Day Cream
CLICK HERE FOR BEST PRICE
What it does
This nourishing day cream clinically is proven to significantly reduce the number, size, and intensity of dark spots. It makes your skin softer, smoother, supple and hydrated round the clock. You will notice and healthier glow and brightened skin instantly.
14. Kiehl's Ultra Facial Cream
What it does
This cream contains Antarcticine, a Glycoprotein extracted from microorganisms sourced from sea glaciers. They have the ability to protect skin from cold air. You will get skin that is well-hydrated, moisturized and supple at all times. This will plump your skin with a translucent and radiant glow. Best suited for the cold weather.
15. L?Occitane Immortelle Brightening Moisture Cream
What it does
Immortelle Brightening Moisture cream comes with anti-aging benefits, that also provide your skin with an even skin tone and brightened complexion. Garden Nasturtium extract helps smooth and even the complexion. It stimulates the skin?s natural ability to reflect light for a more luminous and youthful glow. Your skin will become soft, smooth, supple, and radiant in just few uses.
What are your favorite products to get brighter skin? Share with us and let us know which among these products worked best for you.