Dark circles, a simple issue though, most of us get perturbed just by the sight of it. We get dark circles due to stress, lack of sleep, long hours of work in front of the computers and above all due to lack of basic vitamins in the body. But how to cure dark circles? It?s no big deal. Here?s how!
Sleep:
You definitely need to sleep well after a tiresome day. When you don?t sleep enough you not only get dark circles but a series of health issues. To stay healthy and to look beautiful, sleep well!
Potato:
Potato is a well-known cure for dark circles and also to get rid of dark spots in your face. The moment you think how to remove dark circles, a potato is the first thing that strikes your mind, right? It?s that effective! You can either cut thick round slices and refrigerate it for few minutes and then keep it on your eyes or grate the potato and then use that juice to treat dark circles. Wet the cotton ball with the potato juice or pour the juice in the ice cube tray and then rub?those ice cubes all over your face. [People with sinus problems avoid refrigerating or ice cube method.]
Cucumber:
Cucumber is also one of the legendary treatments for dark circles. You can use thick slices of it to cure dark circles or grate it and squeeze the juice to apply.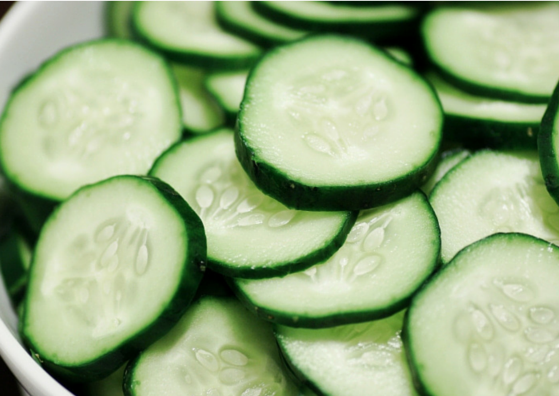 Papaya:
Papaya is great fruit not just for your skin but for healthy living. Mash the papaya and apply the pulp to cure dark circles and also for rejuvenated skin. The best skin care treatment! It would be great if you take papaya as a part of your daily diet.
Rose Water:
Rose water gives a great cooling effect and it so helps cure dark circles that are formed due to stress and other such reasons. Once your skin is rejuvenated, your face will be free from all kinds of spots and dark circles.
Tomato:
Tomato is also one of the best home remedies for dark circles. Cut slices of tomato and place it on your eyes or apply the pulp under the eyes and preferably all over your face for a soft and supple skin.
Almond oil:
Almond is another known-to-work ingredient?for treating dark circles. Take few drops of almond oil and gently massage under your eyes before you got to sleep. If you feel that your face seems lifeless, then almond oil massage is a must to make your skin healthy. Vitamin E oil also greatly serves this purpose. It is also said that vitamin E oil is the best choice to say goodbye to stretch marks.
Buy this Vitamin E oil here –>?http://lifestylica.com/out/glowing-buzz-herbal-vitamin-e-oil
Green Tea:
Soak green tea bags in cold water and then place it on your eyes to get rid of dark circles. You can also dip cotton with the soaked water and then place it on your eyes.
Lemon Juice:
Lemon juice is also one of the best home remedies to treat dark circles. But few people are allergic to the citric acid nature of the lemon. Such people can use creams as an alternative to lemon juice.
Multani Mitti:
Use it as a general face pack to remove oil from your skin. Apply large amount under your eyes to get rid of dark circles. It removes excess oil from your face and makes your face brighter.
Since most of you all may be allergic to tomato and lemon you can also try using eye care creams as a best alternative to reduce your dark circles. VLCC Almond Under Eye Cream suits all skin type and it?s for both men and women. Besides reducing dark circles, the cream nourishes the under eye area. It also protects your skin from environmental pollution.
You can buy this product here –>?http://lifestylica.com/out/vlcc-almond-under-eye-cream-skin-defense
Say goodbye to dark circles! Say goodbye to gloomy face!