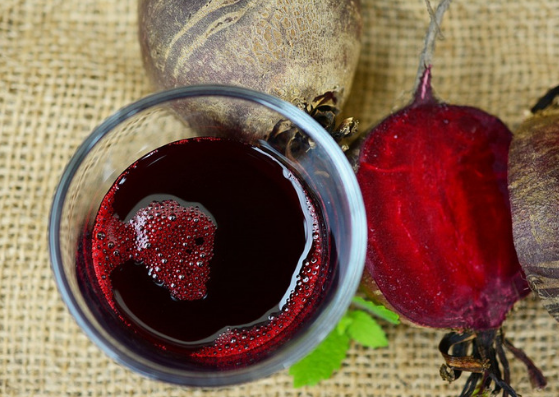 Frustrated with various hair care products that don?t work? Then this article is the one for you. Various factors like stress, pollution, chemicals, etc. take a toll on our hair resulting in dull, damaged hair and baldness in the long run. Using beetroot for hair can be the ultimate solution for all hair-related problems.
Beetroot is a low-calorie vegetable (provides only 40 calories per 100 grams) with an abundant number of nutrients like folate, manganese, vitamin B-6, magnesium, phosphorus, potassium, zinc, copper, selenium, etc. One cup of raw beets (approximately 150 grams) contains about 13 grams of carbohydrates and 2 grams of protein. Pour over this article on how to use beetroot for hair care and see your hair problems disappear.
Benefits Of Beetroot For Hair:
To prevent hair loss:
Beetroots is rich in magnesium, iron, and potassium. Hence applying beetroot juice for hair can help prevent hair loss that results due to nutrition deficiency. Hence include them in your regular diet in salads or juices to prevent hair fall.
Beetroot juice is also found to assist in balancing the hormone levels. Thus regular consumption of the juice can help in preventing hair loss due to stress.
Applying a paste of the beet or its juice will also help increase blood circulation, tighten the pores in your scalp and thus prevent hair loss. So? Come get your beetroot juice here!
How to use Beetroot as a natural remedy for Hair Loss. Click to know more.
To treat baldness:
Similar to spinach, the leaves of beetroot are rich in vitamins C and B6, folate, and betaine which promote hair growth. Applying a paste of the leaves on your scalp for 15-20 minutes before shower can treat baldness that is caused by infections or inflammation of the scalp.
Massaging your scalp with a mixture of raw beetroot juice and ginger is an effective way to treat?hair loss?and baldness.
A paste of the beet can be applied to the bald patches in order to regain lost hair.
Click to know how to use mustard oil for hair growth.
As a natural hair dye:
Organic hair dye free from the harmful effects of chemicals can be made by mixing a cup of raw beet juice with a half cup of black tea and a half cup of rose water. Apply this mixture for 20 minutes regularly before rinsing to maintain a natural red tint to your hair.
A mixture of beetroot juice with henna can also be used to have similar effects.
Beetroot Juice For Hair:
Grind beetroot leaves into a paste and apply on the hair roots and scalp. Wash your hair after fifteen minutes with warm water. Betalain and carotenoid present in the beets have anti-inflammatory and detoxifying properties that provide nourishment and cure inflammation or infections of the scalp. Uses of beetroot juice just does not stop with healing your scalp, besides beetroot juice helps in being one solution for all your hair problems.
Drinking a juice made of cucumber, beetroot, lemon and ginger root extracts can help in treating scalp psoriasis.
Click here to watch a video on how to prepare beetroot juice.
?How To Use Beetroot Hair Mask To Detangle Your Hair:
Why resort to commercials that promise detangling serums when you can prepare your own at home within minutes??To manage tangles just add a tablespoon of apple cider vinegar to a cup of raw beetroot juice. Pour the mixture into a spray bottle, to easily apply it on damp hair. Then comb the tangles right out of it. Similarly, you can also spray a mixture of beetroot juice and olive oil or mustard oil on frizzy hair before combing to tame it.
?To get rid of dandruff:
Beetroot?s antipruritic property makes it an excellent remedy for itchy and dry scalp that result in dandruff. Applying beetroot juice on your dry dandruff infected scalp is the best way to treat itchy scalp. You can also add one to two tablespoons of vinegar along with your beetroot juice for faster recovery.
Boil one beetroot (preferably white beetroot as the purple ones, can stain the scalp & dye your hair) in water and rinse the strained water on your scalp while it is warm. Gently massage and let it sit overnight. The beetroot water moisturizes your dry scalp and also helps in removing dead skills on your scalp thus being an effective home remedy for dandruff.
How to get rid of dandruff? Click to read the complete guide.
?Beetroot Juice For glossy hair:
The carotenoids and other antioxidants present in beetroot not just enhances the quality and thickness of hair, but also adds to its luster. These nutrients enhance blood circulation in the scalp which in turn nourishes the hair follicles and improves the quality of your hair.
A mixture of raw beetroot juice, olive oil, and fresh ground ginger can impart a visible shine to the hair. Massage the mixture directly on your scalp and then apply it from the ends to the roots of your hair, making sure no strand is left unattended. Leave it to stay for about 10 minutes and rinse well.
You can also apply a concoction of beetroot extract with honey over your hair, to prevent the moisture from evaporating. This helps you maintain the shine and smoothness.
Drinking fresh beet juice with honey will give your hair a permanent glossy texture.
?Beetroot Hair Mask For? Thick Hair:
Beetroot contains about 11% of vitamin C and 6% of iron making it a necessary component of your diet for long and strong hair. Grind two fresh beetroots into a paste and mix it with one egg white. Apply this as a beetroot and egg hair mask and cover your head with a shower cap to be left overnight.
Regular intake of beetroot will prevent hair thinning and help you in improving the quality and thickness of hair.
?
As a natural hair conditioner:
Beetroot can be a good replacement if you are concerned about the chemicals in your regular hair conditioner. Mix coffee decoction and fresh beetroot juice to make a good hair conditioner. Rub it in well before you shampoo your hair or just rinse your hair with it after shampoo.
You can also add beetroot extract to your conditioner to enhance and improve its effect.
To deep condition damaged hair and to avoid split ends, make a paste of the beets with castor oil or olive oil and apply it through your hair. Wrap your hair in plastic wrap or a shower cap. Allow the pack to sit on your hair for half an hour and then shampoo as usual.
Click to order pure olive oil online.
Beetroot for curing premature greying of hair:
Beetroot juice contains a pigment called betalain, a powerful antioxidant that fights free radicals and prevents premature ageing of cells. Using the juice to dye your hair regularly will gradually darken it and hence can be used to treat premature greying of hair.
To kill lice:
To kill lice apply a mixture of the beetroot extract with neem oil on your hair for at least 30 minutes before washing. Repeat the treatment every week for at least a month. Get neem oil here.